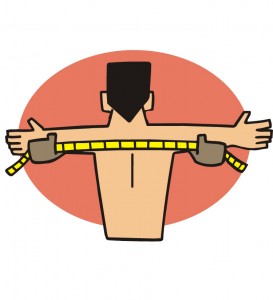 "How many of each size do I think I will need?"
Boy – is this question a stopper- but only until you realize there is a short cut to knowing how to order the right amounts of the right sizes!
When you know the current "size scale" for sportswear, you can accurately estimate how many items of each size you should order so that you have what you need with minimum extras.
Scale for sportswear is currently listed as 2442, meaning that for an order of a dozen items, you would order 2 medium, 4 large, 4 xlarge and 2 xxlarge. A modified scale (based on 14 items) would also include 1 small and 1 xxxlarge.
Use this scale ratio to know how many of what sizes to order when you order larger quantities of shirts. This gives you reasonable estimate of what amounts to order for each size. For example, an order of 200 shirts, estimated using the current scale, would be: 14 S; 29 M, 57 L; 57 XL; 29 XXL and 14 XXXL.
If you know the group for whom you are ordering apparel, you may know that 14 small and 14 xxxl is not right, and you can make those adjustments before the order is finalized.
Ordering shirts with your logo or event on it is not impossible! There is a local embroidery or apparel decoration professional that would love to help you to get exactly what you need!  Remember, we are here to help you.  When you need information, ideas, help or resources, we are a quick call or keyboard away.  Let us know how we can help because we want to make sure that you look great!