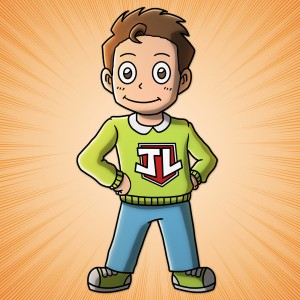 Meet "Joe Logo."
"Joe Logo is the hardest-working employee that any business owner can have, besides themselves" says Jennifer Cox of the National Network of Embroidery Professionals based out of Kent, Ohio. "He never misses a day of work. He never calls in sick. His kids never get sick. He is completely THERE for your business –  24 hours a day, 365 days a year, year after year."
Joe Logo is a character Cox created to help business owners understand just how important their company name and their company brand is to the overall health of their companies.
"People don't realize that they have an incredible resource in their company name and logo," Cox explains. "If they have not yet put their company brand to work in their community, they're missing out on a ton of ways to build awareness of their business."
Joe was born at 6:30 one morning several years ago as Cox was driving to a weekly business meeting for her professional leads group. The networking organization was designed to help professionals in different fields create sales leads for each other from among their own customers. At that time, Cox was the sales person for a family-run embroidery business. Explaining to the group why the people they knew needed to become embroidery customers proved challenging.
"Every week, the leads group showcases several members. You get up and give a 5 to 10-minute presentation," Cox says. "I was scheduled to be the first presenter that morning. I came up with Joe Logo as I drove to the meeting as a way to explain the benefit of the services that I offered in a way that might make more sense and be more memorable."
To demonstrate the benefits of wearing logo'd apparel and using logo'd products, she personified Joe Logo into a valuable employee that everyone in the group could relate to.
Her referral group laughed at her characterization of Joe Logo. Yet at the same time, the business owners at the meeting suddenly understood that what she was offering was much more than some good looking shirts and jackets.
"When you say 'corporate embroidery,' many business owners are not sure if they have a need for that," Cox says. "But when you talk about Joe Logo being punched in on the time clock yet he is sitting there with his feet up on the desk, twiddling his thumbs and goofing off, now that is a completely different mindset. Joe Logo is just waiting for you to put him to work!"
Cox thinks that every business owner can become well acquainted with their Joe and put him to work in all sorts of ways to help make their company more visible.
Embroidery professionals, apparel decoration professionals and promotional products distributors are all experts at putting Joe Logo to work for the business owners in their communities.
"We love to talk to business owners about how we can make his Joe work harder for him, or how we can help create his Joe. We are not just selling embroidered shirts. Business owners are not walking around without a shirt on – they do own clothing!"
We are trying to help our customers build company recognition, brand recognition, customer confirmation and identity within the community. We do all that by helping business owners put Joe Logo to work.
In her presentations, Cox provides examples of how Joe Logo can help a business.
"As a woman business owner and even as a homeowner, when somebody comes to install my internet, update the meter mail machine, fix the dishwasher or connect the cable TV and they show up in a company van (Joe at work), wearing a logo'd shirt (Joe's working again), carrying a badge or I.D. (Joe's front and center here), I have the confidence to let them in the door because they are clearly from the company that I called," she says. "When he walks up wearing the logo, it gives him instant credibility. I am willing to open the door and allow him into my home or business."
"Every company that calls on businesses or homeowners should be using Joe Logo on every wearable surface – bags, hats, jackets, shirts and sweatshirts," she says. "If you have 18 plumbers working in your community and they all look cleaned up and spiffy, that is going to generate an impression, a feeling about the company and their services that is much different than the guy that shows up in old ratty jeans and a dirty T-shirt in a rusted out truck."
Cox stresses that Joe Logo can also help build camaraderie among employees at company gatherings.
"Nice tone-on-tone embroidery for a golf outing is a classy way to build company brand recognition," she says. "Joe can be as subtle or as brash as you want. If you're in a bowling tournament with other contractors in the city, you may want Joe to be pretty prominent, so put him on the back of the shirt, let him get a bit more splashy!"
"Joe can work for everybody. Everybody has Joe, but you're probably not using him very well. He's your least utilized, yet most valuable and cheapest employee – because he's always available to work."
Even business owners who don't have an official logo can still put Joe to work for them.
"Your font, your colors, your overall style, all of that is the foundation for your Joe," Cox says.
Once a business owner starts thinking about Joe Logo as an actual member of the staff, it's easy to see all the different ways that Joe can help.
"I've had customers that call me two and three years later saying, 'Hey, I need to put Joe to work,' or 'Joe's asleep on the job here and I need to wake him up'," Cox says. "Joe makes it easy for you to be thinking about how to use your logo better."
"The business owners thought it was cool that they had a Joe, and that they could put him to work for their company right away, no training required. Once you put Joe to work, it is hard to imagine why you want to let him sit around and goof off!"
Joe Logo works because he's fun.
"People like fun," Cox says. "People remember fun. It totally changes the branding conversation, no matter how small or how large the business is."
"Once you meet Joe, don't be surprised if you discover that you don't want to run your business without him."
If you do not know a great embroidery or apparel decoration professional, feel free to check out the national Embroidery Professionals Directory or email Jennifer Cox at NNEP to find a local embroidery and/or apparel decoration professional near you!